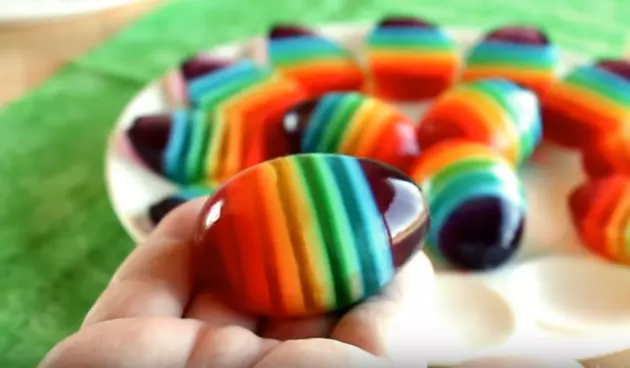 Easy to Make JELL-O Jiggler Easter Eggs [VIDEO]
Crouton Crackerjacks via YouTube
Easter is this Sunday. Have you colored your Easter Eggs yet? Who needs real eggs when you can make eggs out of JELL-O?  
Take a look at this video I found. It looks easy enough and it would be a fun project with the kids. Easy, fun and tasty. That's the way to do Easter Eggs.
There are quite a few items involved, but the man in the video says don't get over whelmed. The only thing that is really time consuming is the waiting for the JELL-O to set. I've see other videos where a little toy is inserted but I can't help but think that could be dangerous for little kids.
Items needed as listed in the YouTube video information area:
6 flavors of Jell-O (cherry, orange, lemon, lime, berry blue and grape)
unflavored gelatine (Knox brand is recommended)
yogurt, sour cream, Cool-Whip or evaporated milk
whipping cream or whipped cream
vegetable oil
assorted measuring cups
whisk
measuring spoons
funnel or syringe
egg molds