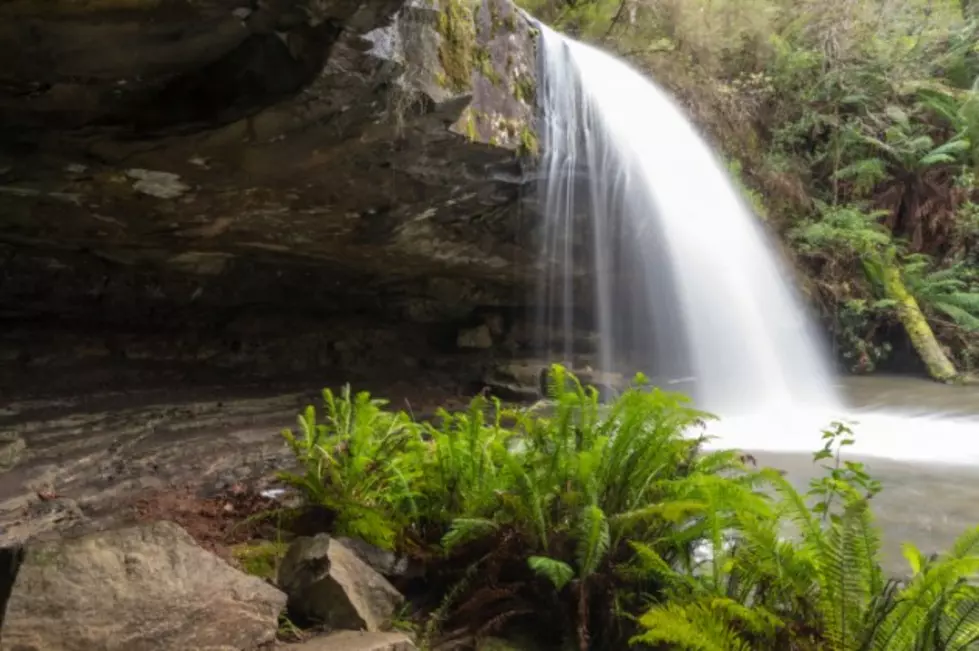 Hamilton Pool Preserve – Hidden Gems of Texas
iStock.
Dripping Springs, Texas is the home of our Hidden Gem this week; The Hamilton Pool Preserve. The Reserve is a historic swimming hole which was designated a 'preserve' in 1990. A beautiful swimming hole in a surrounded by 50 ft. waterfalls, this is definitely a top spot for your 'must see' list.
Hamilton Pool Reserve is about 30 miles (west) outside of Austin and has been named as one of  Texas Best Swimming Holes. Since being named a preserve the amount of people who are allowed to visit on any single day is limited. So I must warn you, it's not always easy to get into the park, especially during the peak of summer vacation time. The wait time can be up to 2 hours at times. Park staff recommend October as the best time to visit, as the park is still beautiful, weather is still warm and their are fewer crowds.
There are other great activities that you can take advantage of though, like hiking, taking a picnic,wildlife observation and more.
So how did the pool and waterfalls form? It's the result of a dome from an underwater river collapsing due to thousands of years of erosion. The watering hole is sometimes not available to swimmers due to bacterial growth. It is not treated chemically in any way but it is monitored for health reasons. If the bacteria levels are not safe then the park closes it to swimmers until it naturally regains its balance.
The water is an almost jade green color, surrounded by lush green plants, moss and even stalactites under the cliffs.
Here are some things park authorities want you to be aware of before your visit:
1. During warm weather, Hamilton Pool routinely fills up with visitors to the point where we prohibit newly arriving visitors from entering. Almost all visitors to Hamilton Pool will wait roughly an hour to enter. Many others will be turned away and not allowed to even enter the waiting line. They have to return and try again an hour or two later.
2. Hamilton Pool Preserve will prohibit swimming if E coli bacteria levels rise too high. We also prohibit swimming if a substantial rain event causes us to suspect a high E coli bacteria level. People who come to Hamilton Pool primarily to swim should call the number listed below for the latest information about swimming.
3. Hamilton Pool can close to all visitors without prior warning if a recent rain shower has made the hiking trails too hazardous for the public. These closures are temporary and usually last half a day to a full day. Again calling the public information line is the way to get the most up to date information.
4. Visitors need to pay for their entrance permits with cash, or check local to Texas. We do not accept credit or debit cards. We also are not part of the State Parks system, so a Texas State Parks pass will not gain a visitor admittance.
5. No pets are allowed. No camping or cooking are allowed either.
Be sure to call 512-264-2740 before you head out on your trip to find out swimming conditions and wait times. The information is updated daily at 9 am. You can find more information online at the Travis County Parks website.